Our lodge is a welcoming and inclusive environment. Club members are skiiers, boarders, climbers and trampers, or are looking for a comfortable base to get the kids into the outdoors. Children under 5 years old eat and stay for free.
If you have an appropriate 4WD vehicle and chains you can drive to the front door all year round. For those with 2WD vehicles, you can arrange pick-ups from the 'base camp' carpark (winter only).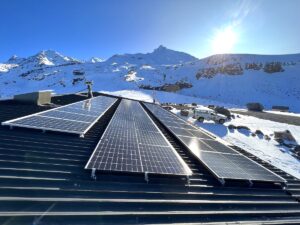 Our lodge was built in 1976 and we reckon it's a bit of a design classic with its retro lines and super solid timber construction. Warm and comfortable, with a large kitchen and living area lodge life is sociable and friendly. The drying room will ensure your wet gear is ready to go for the next day.
Sleeping arrangements
There are eight bunk rooms of varying sizes, and bathroom facilities on both levels including hot showers. Our policy is to accommodate a family group together in their own bunk room. Where this might not be possible or you might have to share with another person the booking officer will be in touch to discuss this wih you before your stay.  Please remember to bring your sleeping bag, the lodge provides a bottom sheet and pillow case.
Lodge life
The full kitchen has conventional and microwave ovens, oven dishes, a fridge, pantry, toaster, jug, pots, pans, plates, mugs, wine glasses, and cutlery.
During peak season (winter ski season), a lodge host is in residence. Everyone plays a part ensuring the lodge runs efficiently day-to-day, with duties normally shared such as meal preparation and cleaning on a daily roster shared by members and guests alike.
The upstairs lounge and dining area has plenty of room and stunning views of the mountain, with a door on to the balcony/sun deck.
Constant upgrades
A lot of work has gone into upgrading the lodge since the club was formed in 2010. The lodge now uses solar panels and batteries via an inverter system to provide electricity and hot water. All cooking is by gas. A diesel generator automatically steps in when needed to keep the batteries topped up in winter.  Fireplaces keep both levels warm and comfortable and help heat the hot water. These energy saving initiatives allow year round operation – thanks to the clean and cheap energy from our solar panels.
We use the latest 'smart home' technology allowing remote monitoring and control our lodge. This enables greater understanding and optimisation of our lodge power, water and heating systems to make your stay more comfortable and safe.