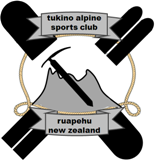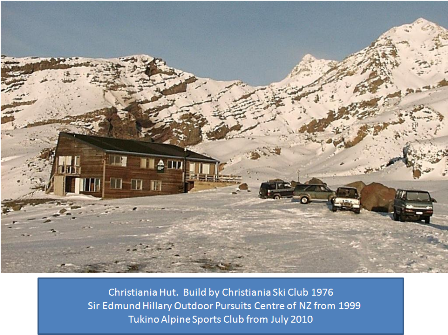 1940s: Army soldiers from Waiouru began searching for areas to ski on the eastern side of Mt Ruapehu and later build the first access road on Ministry of Defence land.
1960s: In 1962 the road was extended into the park and the original Waiouru Alpine and Ski Clubs Nissen hut was built at 1650 meters and later removed in 1981. The road tried several lines before the current route was established. The current Aorangi Ski Club and Desert Alpine Club huts were built in 1964 and 1965.  After the first rope tow setup by the army in 1962 Aorangi Ski club created a new tow in 1966, this was redesigned in 1968 and the Desert Alpine club formed Tukino Tows Ltd.  The original tow was built near the club lodge, however later moved to its current location.
1970s: The Christiania Ski Club Lodge was built in 1976 the year after the formation of the Tukino Mountain Clubs Association in 1975.  The association was formed as a single structure to manage the ski area and owns both the ski tows.  This was an important event in the history of the ski area and both tows were re-engined.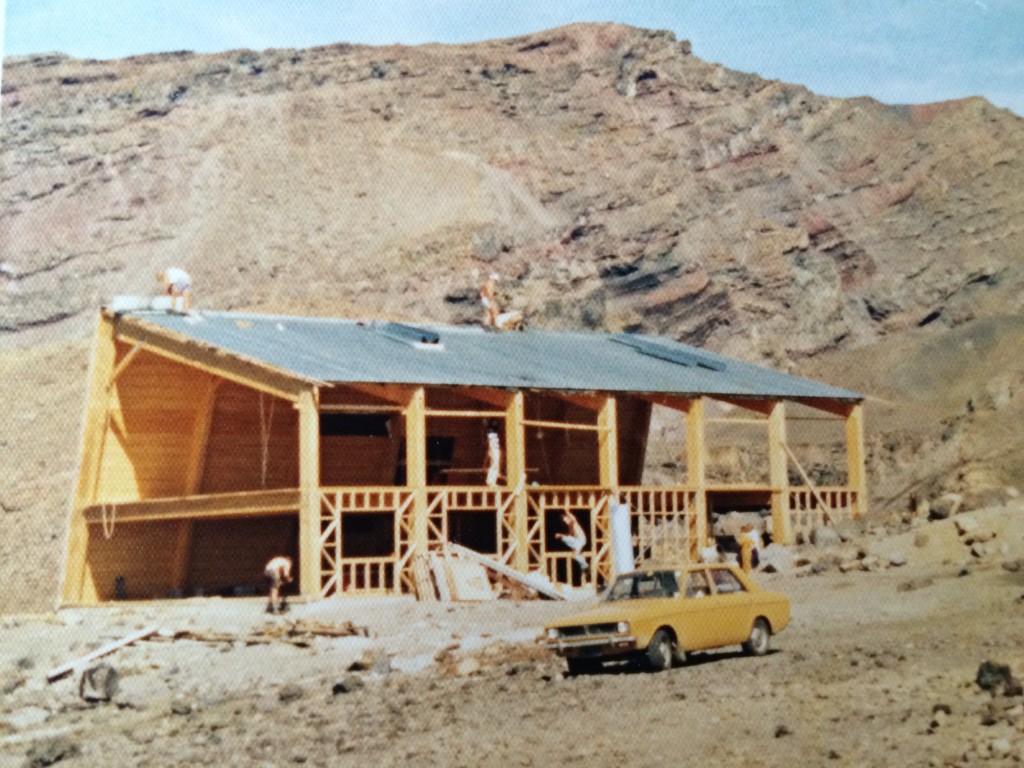 1980s: The original Nissen hut built in the 1960s at 1650 meters was removed in 1981 and in 1982 a bulldozer was purchased for snow clearing.  The access road was previously cleared by a Taihape contractor – however this was expensive and prone to delay.
1990s: In the late 90s the Christiania Ski Club license was transferred to the Sir Edmund Hillary Outdoor Pursuits Centre.
2010: After a period of little use the Christiania Lodge was transferred from the Sir Edmund Hillary Outdoor Pursuits Centre to the Tukino Alpine Sports Club.  The club was formed to expand the usage of the lodge.  The Club has worked to reduce the Lodges footprint and impact on the park and completed the following achievements:
generally moved away from diesel which is a hazardous substance and contaminates the environment if spilled.  Fuel use reduced from $8000pa to ~$1200pa
moved towards using coal, which while carbon producing, is easier to manage in a National Park environment and more efficient for heating than diesel generation
reduced diesel use by installing a battery bank and solar panel array – this permits us to run the lodge in spring/summer/autumn with minimal generator use
insulated large parts of the lodge, installed uPVC double glazing and reduced drafts
created an air ventilation system including a heat exchanger to pre-warm incoming outside air using the extracted air.  This helps to keep the whole lodge warm and dry
created a drying room that is heated from the coal fire wetback and uses the heat exchanger to dry the incoming air and re-use the heat from the exhaust of the drying room
re-plumbed the whole building with freeze resistant PEX plumbing that efficiently uses hot water generated from the coal fire wetback
installed a large number of sensors to measure power use, temperature, water use and systems use so we can re-configure the building and make it easier to use
installed LED lighting throughout, including sensor lighting to make it easy for new members and keep power use down